---

Tagging search

Checklists

Books

Album pages

Study tips

Elizabethan Glossary
---
Study Notes

Modern stamp paper

Fluorescence

Phosphor tagging

Postal rates
---
Checklists
Karsh/Wilding/Cameo:


Karsh


Wilding


Cameo
Centennial:


Centennial
Caricature & Landscape:


Caricature


Landscape


Cityscapes
Environment:


Flowers


Trees


Street Scenes


National Parks


QE II


Parliament


Maple Leaf
Artifact & Parliament:


Low-value


Medium-value


Parliament (bklt/coil)


Parliament (1st class)
Mammals & Architecture:


Low-value


Medium-value


Architecture


QE II
Berries, Fruit & Flag:


Low-value


Medium-value


Flag (first class)


Flag (vending bklt)


Flag (self-adhesive)


Flag (coil)
Trade, Leaf & Wildlife:


Low-value Trades


Medium-value Trades


1st class/Medium-value Maple Leaf


1st class Leaf Coil


Medium-value Wildlife


High-value Wildlife
Insect, Flag, Leaf & Flower:


Insects 2007-


Flag (vert) 2004-


Maple Leaf 2003-2004


Flowers
---
Other

Stamp programs

Study Tips

Books

Stamp home page
---
High-value Architecture (1989-96)
Updated Jan 14/99)
---
Background
Checklist
Errors

see also, Study Tips #1 article
see also, Study Tips #7 article ("glow" varieties)
Background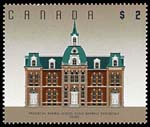 High-value Architecture designs first appeared in May 1989. Since that time, 6 different designs were issued. All but one of the designs is available in more than one variety.
Different printers and different papers have resulted in more than a doubling of the number of collectable varieties.
Three different paper manufacturers have supplied paper: Harrison, Peterborough, and Coated Paper. With that said, paper identification is not required to differentiate between the various printings.
Some consider the 6 values to be two different series. This is due to the noticeable size difference.
All of the high-value Architecture stamps were issued in panes of 25 stamps.
The two "series" (ie. different sized-stamps) are listed separately, each having various identification tables:
Errors
Some significant errors have occurred on these 6 high-value Architecture stamps, including missing colour, imperforate, and inverted colour errors! Colour and perforation shifts also exist on some values.
five stamps with missing inscriptions "exist" on three issues: $1 Runnymede Library (BABN), $1 Yorkton Court House (both LM and CBN), $2 Provincial Normal School (both LM and CBN).
imperforate errors exist on the $1 Runnymede Library (BABN) and $2 McAdam Railway Station (BABN).
inverted inscriptions exist on the $1 Runnymede Library (BABN) and $2 Provincial Normal School (CBN; 4 "types" exist).