---

Tagging search

Checklists

Books

Album pages

Study tips

Elizabethan Glossary
---
Study Notes

Modern stamp paper

Fluorescence

Phosphor tagging

Postal rates
---
Checklists
Karsh/Wilding/Cameo:


Karsh


Wilding


Cameo
Centennial:


Centennial
Caricature & Landscape:


Caricature


Landscape


Cityscapes
Environment:


Flowers


Trees


Street Scenes


National Parks


QE II


Parliament


Maple Leaf
Artifact & Parliament:


Low-value


Medium-value


Parliament (bklt/coil)


Parliament (1st class)
Mammals & Architecture:


Low-value


Medium-value


Architecture


QE II
Berries, Fruit & Flag:


Low-value


Medium-value


Flag (first class)


Flag (vending bklt)


Flag (self-adhesive)


Flag (coil)
Trade, Leaf & Wildlife:


Low-value Trades


Medium-value Trades


1st class/Medium-value Maple Leaf


1st class Leaf Coil


Medium-value Wildlife


High-value Wildlife
Insect, Flag, Leaf & Flower:


Insects 2007-


Flag (vert) 2004-


Maple Leaf 2003-2004


Flowers
---
Other

Stamp programs

Study Tips

Books

Stamp home page
---
Low-value Wildflower (1977-81)
Updated Jan 5/02
---
Background
Checklist
Errors
Overprints

see also, Study Tips #5 article (hook-tag flaw)

Medium-value Trees

Canadian Bank Note Company: Lithography

British American Bank Note Company: Photogravure

The Wildflower low-value definitives made their appearance April 22, 1977. Although only 8 values were issued, 23 easily identifiable varieties were produced.

The first six Wildflower values (1¢–10¢) were initially scheduled for a March 1, 1977 release, along with the new 12¢ Queen Elizabeth II design. Production difficulties postponed their release until April 22nd — this was the first time that low value definitives were printed with multiple colours.

The design is similar in nature to the medium-value Trees, except that the Trees are a larger-sized stamp - both groups of stamps share the same background style with single-outlined border and style of print for the value and inscription.

Two different printers produced these stamps. Each used a different printing method. As a result, the stamps printed by each firm are easy to separate from the other printer. The differences are most noticeable in the printing of the background of the stamp's design:
Canadian Bank Note Company used the lithographic printing method. This results in a "solid" colour, particularly noticeable in the background colour.

The CBN used a perf of 12x12 1/2 on these stamps (the 10c Flower had a second CBN printing of perf 13x13 1/3).

The inks used to print the lithographic "background" of the CBN stamps have a strong tendency to change colour when exposed to long periods of sunlight or ultraviolet light — be cautious when purchasing these so-called printing varieties.

British American Bank Note Company used the photogravure process to print these stamps. This results in an uneven texture to the colours, particularly noticeable in the background colour (this effect is also described as "mottled", blotchy", "streaky", etc.).

The BABN used a perf of 13x13 1/3 on the sheet stamps and 12x12 1/2 on the booklet stamps.

Notice that the 12c and 15c Flowers were only printed by the BABN.
All values were printed in panes of 100; in addition the 1c and 2c values were available from booklet panes (which differ from the sheet version).
Sheet
Booklet
Precancel
Lithography
Photogravure
Photogravure
Lithography
Photogravure
12x12 1/2
13x13 1/3
13x13 1/3
12x12 1/2
12x12 1/2
13x13 1/3
1c Bottle Gentian
Apr 22/77 (pl 1)
Aug 16/79 (pl 2)
Nov 1/77
Feb 1/78
2c Western Columbine
Apr 22/77 (pl 1)
Aug 2/79 (pl 2)
Apr 1/78
3c Canada Lily
Apr 22/77 (pl 1)
Apr 11/79 (pl 2)
Aug 78
4c Hepatica
Apr 22/77 (pl 1)
Jul 3/79 (pl 2)
5c Shooting Star
Apr 22/77 (pl 1)
Jan 23/79 (pl 2)
May 78
10c Slipper
Apr 22/77 (pl 1)
Sep 78 (pl 2)
Oct 4/79 (pl 3)
Jul 77
12c Jewelweed
Jul 6/78 (pl 1)
Sep 78
15c Canada Violet
Aug 16/79 (pl 1)
Aug 16/79
The date shown is the date of issue of that specific variety. A "blank" means the item does not exist.
These stamps were available for nearly 5 years. In that time a number of errors appeared:
missing colour (all due to repellex variety): 1c (CBN, 17 stamps known), 4c (CBN), 5c (CBN, 3 stamps known)
printed on gum side: 1c precancel (only 16 copies from a corner set known), 2c (CBN), 4c (CBN)
imperf bottom half of stamp and margin: 2c (CBN)
double perforated: 5c (CBN, 1 pane of 100 known)
"hook-tag flaw" (all BABN): 1c, 3c, 5c, 10c, 15c (see article)
untagged: 2c (CBN), 2c (BABN), 3c (CBN), 5c (CBN), 10c (CBN), 10c (BABN), 15c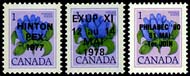 The 1c Bottle Gentian wildflower was overprinted, on 3 separate occasions, by stamp exhibitions for advertising and fund-raising purposes. All were officially approved by Canada Post:
CBN
12x12 1/2
BABN
13x13 1/3
HINTON / PEX / 1977
x
EXUP XI / 12 au 14 / MAI / 1978
x
PHILABEC '80 / 31 mai / 1er JUIN
x