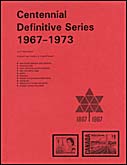 Canada Specialized Books & Album Pages
[updated May 19, 2014]
I have prepared seven different books and album pages on the Canadian definitives issued since 1952.
Dec 2016: Major updates are underway on these books. As an example, the first edition of the "Environment" book was some 114 pages. A second edition (very close to completion) is currently sitting at over 398 pages!
Some of the new features include: illustrations of press sheets, rate covers, hundreds of varieties, Canada Post PS14 brochures and posters. Also, auction results and article references.