---

Tagging search

Checklists

Books

Album pages

Study tips

Elizabethan Glossary
---
Study Notes

Modern stamp paper

Fluorescence

Phosphor tagging

Postal rates
---
Checklists
Karsh/Wilding/Cameo:


Karsh


Wilding


Cameo
Centennial:


Centennial
Caricature & Landscape:


Caricature


Landscape


Cityscapes
Environment:


Flowers


Trees


Street Scenes


National Parks


QE II


Parliament


Maple Leaf
Artifact & Parliament:


Low-value


Medium-value


Parliament (bklt/coil)


Parliament (1st class)
Mammals & Architecture:


Low-value


Medium-value


Architecture


QE II
Berries, Fruit & Flag:


Low-value


Medium-value


Flag (first class)


Flag (vending bklt)


Flag (self-adhesive)


Flag (coil)
Trade, Leaf & Wildlife:


Low-value Trades


Medium-value Trades


1st class/Medium-value Maple Leaf


1st class Leaf Coil


Medium-value Wildlife


High-value Wildlife
Insect, Flag, Leaf & Flower:


Insects 2007-


Flag (vert) 2004-


Maple Leaf 2003-2004


Flowers
---
Other

Stamp programs

Study Tips

Books

Stamp home page
---
Low-value Traditional Trades (1999-2007)
Updated Sep 19/09
---
Medium-value Trades

Background
Checklist
Imprint blocks
Full panes
Errors
A new series of low-value stamps appeared April 29, 1999 with the release of 9 stamps featuring Trades. This new set of definitives replaced the low-value Berries first seen in August 1992.
Some notable observations:
the 9c value is Canada's first ever in this denomination
the pre-issue photo for the 10c value included an error of spelling in the inscription (Artisitic). Will any of these "errors" appear on the market? (click for article)
first barcodes to appear on the selvedge of a Canadian definitive stamp (Nov 15/01)

Printer:
Ashton-Potter
CBN
Paper:
Coated
Value
Barcode on pane
1c Bookbinding
Apr 29/99
Dec 00
Nov 15/01
2c Decorative Ironwork
Apr 29/99
Dec 01
Dec 13/02
3c Glass-blowing
Apr 29/99
4c Oyster Farming
Apr 29/99
Oct 05
5c Weaving
Apr 29/99
Feb 01
Nov 15/01
9c Quilting
Apr 29/99
10c Artistic Woodworking
Apr 29/99
Mar 01
Nov 15/01
25c Leatherworking
Apr 29/99
Nov 01
Dec 15/01
Illustrations of imprint blocks and full panes can be found below.
There is NO difference between Field and Philatelic stock - all panes have imprints in all four corners.
The barcode issues (1c, 2c, 4c, 5c, 10c, 25c) have a barcode in either the top or bottom imperforate selvedge in columns 5 and 6. The first two printings of each stamp have perforated top and bottom selvedges. Thus, corner plate inscription blocks of 4 are different for all printings.
The date shown is the date of issue of that specific variety. A "blank" means the item does not exist.

Lower Left Imprint Blocks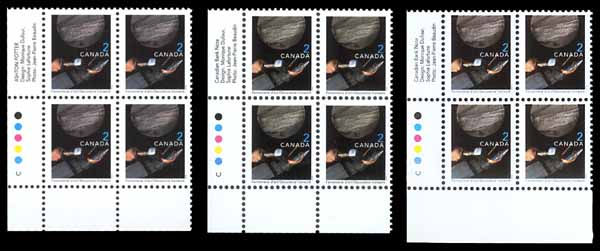 First Printing
Ashton-Potter
Second Printing
Canadian Bank Note Company
Third Printing
CBN - Barcode at top
Third Printing
CBN - Barcode at bottom

A significant perforation shift on the 10c value (CBN printing with barcode) exists that resulted in the top row of stamps being imperforate. However, the post office clerk where these were purchased had already broken the pane into blocks of 10 and, using scissors, cut down between each imperforate stamp.