---

Tagging search

Checklists

Books

Album pages

Study tips

Elizabethan Glossary
---
Study Notes

Modern stamp paper

Fluorescence

Phosphor tagging

Postal rates
---
Checklists
Karsh/Wilding/Cameo:


Karsh


Wilding


Cameo
Centennial:


Centennial
Caricature & Landscape:


Caricature


Landscape


Cityscapes
Environment:


Flowers


Trees


Street Scenes


National Parks


QE II


Parliament


Maple Leaf
Artifact & Parliament:


Low-value


Medium-value


Parliament (bklt/coil)


Parliament (1st class)
Mammals & Architecture:


Low-value


Medium-value


Architecture


QE II
Berries, Fruit & Flag:


Low-value


Medium-value


Flag (first class)


Flag (vending bklt)


Flag (self-adhesive)


Flag (coil)
Trade, Leaf & Wildlife:


Low-value Trades


Medium-value Trades


1st class/Medium-value Maple Leaf


1st class Leaf Coil


Medium-value Wildlife


High-value Wildlife
Insect, Flag, Leaf & Flower:


Insects 2007-


Flag (vert) 2004-


Maple Leaf 2003-2004


Flowers
---
Other

Stamp programs

Study Tips

Books

Stamp home page
---
Medium-value Landscapes (1972-76)
Updated Oct 14/02
---
Background
Checklist
Type differences
Tagging

High-value Cityscapes

The release of 5 new medium-value definitives featuring landscapes from across Canada was an innocent beginning. Although only these 5 values are part of this landscape set, there are in fact no less than 33 different major varieties!
During the short time that these stamps were available, 3 different types of tagging was used; 4 of the values were "redrawn" (differences discussed below checklist), and all of the values were reissued with a different printing. In addition, "ribbed-textured" paper varieties exist on all values (and many of the tag changes noted above).
All values were printed in panes of 100 by the British American Bank Note Company.
[ This is a "wide" table, by necessity - too many varieties! ]
Type I
Type II (Re-drawn)
12 1/2x12
12 1/2x12
13 1/3
Wpg Tag
OP-4 (migrates)
OP-2 (3mm)
OP-2 (4mm)
OP-2 (4mm)
OP-2 (4mm)
Value
Ribbed
Ribbed
Ribbed
Ribbed
Ribbed
Hi-brite
10c Forest
Sep 8/72
Sep 8/72
Sep 8/72 (pl 1)
Sep 8/72 (pl 1)
Sep 8/72 (pl 1)
Jun 74 (pl 2)
x
x
Sep 75 (pl 3)
15c Mountain Sheep
Sep 8/72
Sep 8/72 (pl 1)
Sep 8/72 (pl 1)
Sep 8/72 (pl 1)
Jun 75
x
Jan 76 (pl 2)
20c Prairie
Sep 8/72
Sep 8/72 (pl 1)
Sep 8/72 (pl 1)
Dec 73
x
Jan 76 (pl 3)
25c Polar Bears
Sep 8/72
Sep 8/72 (pl 1)
Sep 8/72 (pl 1)
Sep 8/72 (pl 1)
Dec 74
Jan 76 (pl 3)
50c Seashore
Sep 8/72 (pl 1)
Sep 8/72 (pl 1)
Sep 8/72 (pl 1)
Mar 74
Dec 75 (pl 2)
The date shown is the date of issue of that specific variety. A "blank" means the item does not exist. An "x" or "(pl #)" indicates that that variety exists but a release date is not known.
Type Differences
10c Forest printing differences
Type I
The foreground (around 'Canada') has "screened" effect.
Type II
The foreground appears nearly "solid".

15c Mountain Sheep printing differences
Type I
Hillside is light.
Type II
Hillside is much darker.

25c Polar Bears printing differences
Type I
Polar bears and shadow are light.
Type II
Polar bears and shadows have a solid and dark patch of colour added.

50c Seashore printing differences
Type I
Cliffs are light; surf is light; '50' is dark.
Type II
Cliffs are deeper colour; surf is not white.
Type III
Colour of '50' and cliffs are same intensity (only found on perf 13 1/3 and called "Type II" in chart above).
Three types of tagging were used on these values: Winnipeg, General OP-4 and General OP-2.
The General OP-4 tagging is notorious for "migrating" - the tagging material will bleed across the stamp, and onto other stamps and materials that are in contact with the tagging for prolonged periods. OP-4 tagging was superseded by OP-2 tagging in 1972.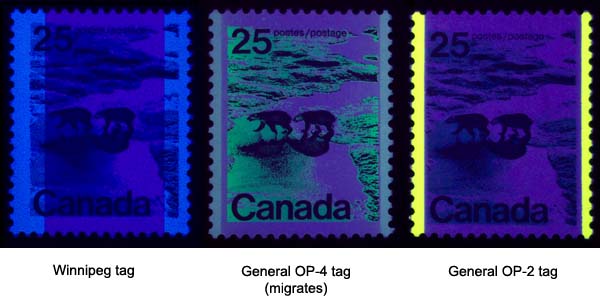 Here are other examples of the 25c value, showing the OP-4 migrating tag as it appears passing through the top selvedge. On some single stamps, this kind of tagging may be very difficult to see, perhaps even giving the impression that that the stamps are not tagged. Be very careful in identifying these.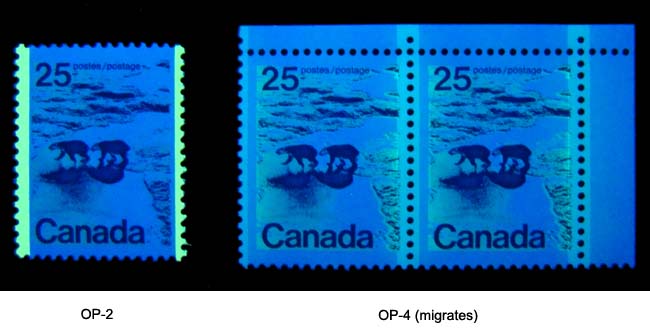 Here are examples of the OP-4 migrating tag on the 50c value, including what it looks like on the back of the stamp.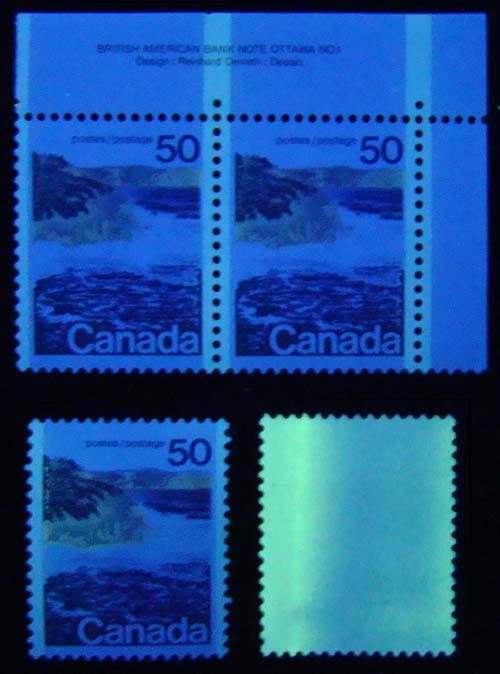 ---


© 1999-2013, 2014 Robin Harris
Adminware is a trademark of Adminware Corporation.