---

Tagging search

Checklists

Books

Album pages

Study tips

Elizabethan Glossary
---
Study Notes

Modern stamp paper

Fluorescence

Phosphor tagging

Postal rates
---
Checklists
Karsh/Wilding/Cameo:


Karsh


Wilding


Cameo
Centennial:


Centennial
Caricature & Landscape:


Caricature


Landscape


Cityscapes
Environment:


Flowers


Trees


Street Scenes


National Parks


QE II


Parliament


Maple Leaf
Artifact & Parliament:


Low-value


Medium-value


Parliament (bklt/coil)


Parliament (1st class)
Mammals & Architecture:


Low-value


Medium-value


Architecture


QE II
Berries, Fruit & Flag:


Low-value


Medium-value


Flag (first class)


Flag (vending bklt)


Flag (self-adhesive)


Flag (coil)
Trade, Leaf & Wildlife:


Low-value Trades


Medium-value Trades


1st class/Medium-value Maple Leaf


1st class Leaf Coil


Medium-value Wildlife


High-value Wildlife
Insect, Flag, Leaf & Flower:


Insects 2007-


Flag (vert) 2004-


Maple Leaf 2003-2004


Flowers
---
Other

Stamp programs

Study Tips

Books

Stamp home page
---
Flag - First Class Rate (2004-)
(vertical, multiple designs)
Updated Dec 26/08
---
Background
Checklist
This group of Flag over... stamps, which began appearing in 2004, are vertically oriented and each issue contains five different designs in the same booklet. Previous Flag over... issues were only single-design issues.
50c (2004)
There are two notable items to deal with on this group of Flag over... designs:
twenty-five (25) different booklet covers were released (on each of the varieties noted next)
the Coated paper is found on three (3) different printings, which can be identified by the number of roulettes down the center of the pane: either 5 (wide slits), 29 or 23 slits. The latter variety is very rare.
51c (2005)
The two different printers on this issue each produced two different varieties:
CBN had two different printings. The first had rouletting (29 slits) while a second printing (likely used for FDCs and the quarterly pack stamps) had no roulletting. This latter variety is rare.
Lowe-Martin had two different roulettes (found on the cover side): either 29 slits or 32 slits. The latter is scarce.
Permanent (2006)
These were the first Permanent-valued stamps issued by Canada Post. At the time of issue, the face value was 51c. This changed to 52c on January 16, 2007.
Permanent (lighthouses) (2007)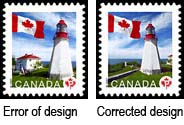 These Flag over... stamps are noteworthy for:
the first self-adhesive Flag over... designs that employed a serpentine die cut to simulate perforations.
"security-type" tagging, consisting of small waves of water, is found on the left and bottom of each stamp.
very fine black micro-printing, noting the geographical location of the illustrated lighthouse, is found in each design.
an error of design exists on one of the lighthouse stamps. The design was corrected and new booklets issued.
At the time of issue, the face value of this group of stamps was 52c.

[ This is a "wider" table, by necessity - too many varieties! ]
Booklet
Die cut
"perf"
CBN
Lowe-Martin
CBN
Coated
Fasson
Coated
Coated
Coated
Value
Design
10
10
30
10
10
30
50c
Bridge
Town
Waterfall
Church
Boat
Dec 20/04 (1)
May 30/05 (2)
51c
Houses
Bridge
Windmills
Fort
Dogsled
Dec 19/05 (3)
Jul 31/06 (4)
Permanent
Lake
Cliff
Bears
Lighthouse
River
Nov 16/06
Nov 16/06 (5)
Permanent
Striped
Tress to left
Water to left
Field to left
House to left (design error)
Dec 27/07
Permanent
Striped
Tress to left
Water to left
Field to left
House to right (corrected)
Jul 2/08
May 1/08
The date shown is the date of issue of that specific variety. For booklets, the numbers in parentheses are the number of stamps per pane. A "blank" means the item does not exist.
Notes:

1. 25 different cover designs; exists: rouletted, 5 slits per pane and 29 slits per pane and 23 slits per pane (rare/Feb '05)
2. 25 different cover designs; rouletted, 29 slits per pane

3: exists: rouletted and not rouletted on design side (rare)
4. exists: rouletted, 29 slits per pane and 32 slits per pane (scarce)

5: original had UPC barcode at lower left of back cover; reprint on Apr 5/07 moved UPC barcode to top of panel, to left of stamps