---

Tagging search

Checklists

Books

Album pages

Study tips

Elizabethan Glossary
---
Study Notes

Modern stamp paper

Fluorescence

Phosphor tagging

Postal rates
---
Checklists
Karsh/Wilding/Cameo:


Karsh


Wilding


Cameo
Centennial:


Centennial
Caricature & Landscape:


Caricature


Landscape


Cityscapes
Environment:


Flowers


Trees


Street Scenes


National Parks


QE II


Parliament


Maple Leaf
Artifact & Parliament:


Low-value


Medium-value


Parliament (bklt/coil)


Parliament (1st class)
Mammals & Architecture:


Low-value


Medium-value


Architecture


QE II
Berries, Fruit & Flag:


Low-value


Medium-value


Flag (first class)


Flag (vending bklt)


Flag (self-adhesive)


Flag (coil)
Trade, Leaf & Wildlife:


Low-value Trades


Medium-value Trades


1st class/Medium-value Maple Leaf


1st class Leaf Coil


Medium-value Wildlife


High-value Wildlife
Insect, Flag, Leaf & Flower:


Insects 2007-


Flag (vert) 2004-


Maple Leaf 2003-2004


Flowers
---
Other

Stamp programs

Study Tips

Books

Stamp home page
---
Karsh (1952-53)
Updated Jan 18/99
---
Background
Checklist
Background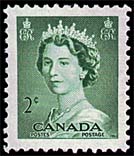 The short-lived Karsh-series definitives include 1-5c values with a design from a portrait by Yosuf Karsh as well as 4 medium-high values (as I define the series).
There is not much that happens with these stamps. The precancel, official, and coils are all easily identifiable from the sheet versions. The result is 34 major varieties from 9 basic values.
The different precancel types are due to "numerical" precancelling on these two values (4c and 5c); see the "pic" link for illustrations [ 0700 = Montreal, PQ; 1050 = Quebec, PQ; 4530 = Toronto, ON ].
All low values were printed in panes of 100; 3 of the values appeared in booklets; 3 of the values were also issued in coils. The medium-high values were issued in panes of 50.



Value
Plates
Sheet
Booklet
Precancel
pic
Official
pic
Coil
pic
Coil
Precancel
Low-value
1c brown
3
May 1/53
Aug 12/53
Aug 18/53
2c green
6
May 1/53
x
Aug 18/53
Jul 30/53
Nov 12/53
3c carmine
4
May 1/53
Jul 12/53
Oct 20/53
Aug 17/53
x
May 17/53
Jul 27/53
4c violet
6
May 1/53
Jul 6/53
Aug 19/53
Aug 12/53
x
(4 types)
May 2/53
Sep 3/53
5c blue
3
May 1/53
x
(3 types)
Aug 18/53
Medium-value
7c Canada Goose
2
Nov 3/52
Nov 3/52
20c Forestry Products
2
Apr 1/52
Apr 1/52
50c Textile Industry
2
Nov 2/53
Nov 2/53
$1 Totem Pole
2
Feb 2/53
Feb 2/53
The date shown is the date of issue of that specific variety. A "blank" means the item does not exist. An "x" indicates that that variety exists but a release date is not known.

---


© 1999-2013, 2014 Robin Harris
Adminware is a trademark of Adminware Corporation.