[ Click for this site's home page and/or philatelic home page. ]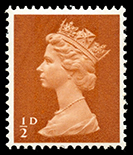 The first Machin stamps (pronounced MAY-chin) were issued June 5, 1967. Since then, dozens and dozens of different values have been released and many colour changes have occurred to provide the stamp collector with the largest definitive series ever produced (and still going strong!).
[Machins are named after Arnold Machin, a sculptor who designed the portrait of the Queen used on these Great Britain stamps. Machin passed away March 9, 1999 at the age of 87.]
I have been collecting and studying Machins (with my father) for about 25 years. We accumulate used Machins by purchasing mixtures, by the pound (kilogram). The subsequent soaking and initial sorting by regionals/value/colour/elliptical perfs is done by my father (who passed away in 2019).
We now have access to nearly 250,000 used Machins, however, they all look the same! What is PCP, ACP, OCP, APS, Kampf? The various catalogues do a great job of listing every variety and describing the terms, but I didn't have a suitable reference collection.
In late April 1999, while surfing the web, I came upon a specialist Machin dealer (Hampstead Castle) who listed, and had for sale, virtually every Machin variety. After a few timely e-mails, I ordered a "starter" set of over 625 different Machins - this would be my reference collection - now it was time to study our hoard and separate them into the thousands of Machin varieties.
The listings found on this site reflect my personal studies of this fascinating series of stamps. They are not meant to be a complete listing of every Machin variety ever produced. I will leave that up to the many specialized catalogues that have been published (such as the largest and best catalogue - The Complete Deegam Machin Handbook).
I do not pretend to be an expert on Machins - quite the opposite, I feel I am still very much a novice. I use these lists to sort and organize our supply of Machins and have posted them on the web to show you how I have studied them. For more complete listings and background information, please study the many Machin publications that are available.
---
A significant update was done to the site in July 2001 - an improved menu bar down the left side of the screen (instead of hidden at the bottom of each page) and navigation buttons at the top right corner of each listing page make it easier to move through the site. In addition, new Postal Rates and Perforation Change listing pages were added.
In January 2022, the site was changed over to a database-driven site. That is, all listings are now housed in a database and all searches present the listings based on this data.
By the way, they say imitation is the best form of flattery. Be cautious of another 'Machin' website that has stolen pictures and detailed images from this site, without permission (and continues to use them despite my requests to ask them to stop). If it wasn't a 'for-profit' site I probably wouldn't care - but when you consider the hundreds of hours that have gone into developing this site then you would understand.
Update (Dec 9/02): I've found a second dealer site that has taken a significant number of images from my site without asking. Now, I know the internet is a 'free-for-all' for some, but you would think, out of common courtesy, that someone (particular a dealer) would first ask permission to use the pictures? I guess I am just a bit naive about this.
Update (Mar 27/04): A third site has been found that has taken many images from my site - again, without asking. I repeat, I have no problem with my images being used ... if permission is asked ahead of time (wouldn't you agree?).
---
There are many reasons why there are so many different Machins to collect: different printers have been involved; Machins have been issued in sheet, coil, and booklet form (each can be identified by close observation); various phosphor tagging has been used; different papers and gum have been employed.
The simplified to specialized listings that appear here are aimed at the collector of single Machins.

You will find a virtually complete list of all major varieties, including regionals, denomination, colour, value size, perf changes, printing method, elliptical perfs, new design, phosphor bands, paper, anniversary, etc.

You will not find: gum varieties, illustrations and complete booklet and coil varieties, certain phosphor band varieties, errors (such as missing phosphor and imperforates), perfins, and anything else I don't understand (maybe down the road).
---
Any prices shown here are an estimated price in Canadian dollars for mint specimens - use them as a guide to relative scarcity only. Certain specimens, particularly those available only from booklets, are actually very difficult to find used.
If you are interested in buying Machin stamps, check out the links to other Machin sites or contact Hampstead Castle directly (I have had great service from them) [ I am not selling Machin stamps].