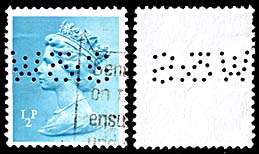 Remember that I am not a dealer in stamps...
PERFIN: PERForated INitials
SPIF: Stamps Perforated with Individuals or Firms
Any stamp in good condition should have some kind of value. Do Machins with a PERFIN have more value than one without? Generally speaking, I think a stamp with a perfin is valued less than a stamp without a perfin. This is due to less demand by collectors, even though perfins may be harder to find!
I have a few Machins with perfins but do not know about specific scarcity factors. I suspect (like in any country) that certain perfins are quite scarce, but does that mean they will sell for more? It all depends on supply and demand - a specialized Machin collector may, on any given day, pay a bit more for a certain perfin pattern in order to complete their collection.