---
Coils (100 / 50):




Booklets:



Initial release date: Dec 20/04
The stamps were released nearly a month before their intended postage rates came into effect.
Designs:
50c Red Calla Lily
85c Yellow Calla Lily
$1.45 Purple Dutch Iris
Canada Post Archives details: 50c, 85c, $1.45 (opens in new window)
Scott/Unitrade numbers:
2072-2074 (coils)
2081-2082 (booklet singles)
BK303-BK304 (booklets)
Printer: Lowe-Martin (Ottawa, ON)
Printing method: Lithography (5 colours)
Paper: self-adhesive, Fasson
Designers: Monique Dufour, Sophie Lafortune
Postage rates (Jan 17/05 - Jan 15/06):
50c - domestic lettermail (0-30g)
85c -USA (0-30g) and domestic (30-50g)
$1.45 - International (0-30g)
Format:

Booklet
Pane of 6
Vert Coil
Roll of 100
Vert Coil
Roll of 50
Self-adhesive
Lowe-Martin
Die cut
8.5 horiz
7 horiz
8.5 horiz
7 horiz
Domestic First-class rate:
50c Red Calla Lily
Dec 20/04
Feb/05
USA/International rate:
85c Yellow Calla Lily
Dec 20/04
Dec 20/04
Feb/05
$1.45 Purple Dutch Iris
Dec 20/04
Dec 20/04
Feb/05
The date shown is the date of issue of that specific variety. A "blank" means the item does not exist.

---
The coils were distributed to post offices in boxes, with 10 rolls per box. Sometime during the year, a stamped barcode and product number was stamped on one end of the box.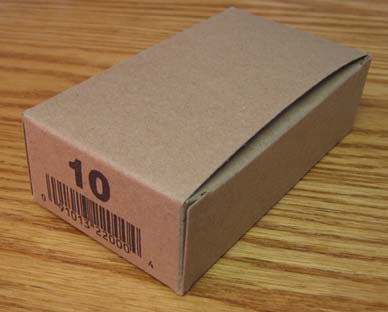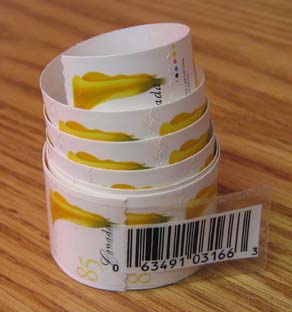 The rolls were wrapped around a thick inner core or cardboard. A clear, self-adhesive sticker was applied on the end of the roll to keep it rolled. This 'wrapper' had a UPC barcode which would be scanned at the post office checkout. Three different types of these wrappers exist on this series of Flower coils. The "red" $0.50 wrapper was seen only on the "8-peak" 50c stamp.
| | | |
| --- | --- | --- |
| Denomination | "Large" UPC numbers | "Small" UPC numbers |
| 50c | | |
| | | |
| 85c | | does this one exist? |
| $1.45 | | |

---
If you take any of the original printings of these coil stamps, you will get various die cuts, ranging from 7.9 to 8.9! (and almost every number in between).
They were reprinted with a serpentine die cut 7 horizontal - these started showing up in late February 2005.
If you are counting "peaks", the original had 9 or 10 peaks, the new perf has 8 peaks. Be warned though - counting peaks is not the same as "perfing" the stamp.
Top: original perf 8.6
Bottom: reprint perf 7

---
As has been hinted at above, the serpentine die cutting is variable across the stamp. That is, it is not consistent from one stamp to another, between the top or bottom of the same stamp, and even inconsistent across a single stamp!
Recall that there are 10 rolls printed across the printing sleeve and a gutter every 10 stamps along a roll. Thus, the printing "plate" for these coils is 10 stamps across by 10 stamps down.
It is actually possible to place 10 rolls beside each other and watch how the die cutting flows from one roll to another. With this layout, one can plate all 100 positions because of the uniqueness of the die cutting. Said another way, each stamp has a unique set of die cutting that can be plated.
Click for more on "plating".
Since there were (at least) two die cutting mats used, there are 200 different (unique) stamps for each of the three denominations of these coils. The following image needed to be shrunk to "fit your screen", but it is in fact a group of 10 rolls placed beside each other - a plating "sheet":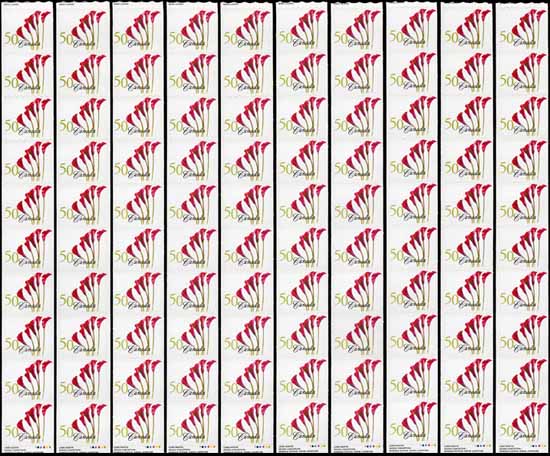 ---
TWO types of inscriptions exist on the original printings of the three Flower coil definitives (ie. the 'perf 8 1/2' version). The difference is in the location of the paper designation and colour dots compared to the inscription text.
A picture is worth a thousand words...
It turns out that BOTH types of inscriptions were probably around since the stamps were first issued on Dec 20, 2004.
Notice that the "F above O" seems to have a bolder text font than the "F above R" inscription.

---
The $1.45 Flower coil has been found where the inscription, found in the gutter every 10 stamps, has a "0" (zero) character added to the front of the printer's name.
$1.45 Purple Dutch Iris Coil
Perf 8.5
Perf 7
"F over R"
x
"F over O"
x (*)
x (*)
"F over O", 0Lowe
x
x
* Remember the "plating" of these stamps (noted above)? Recall that there are 10 rolls of stamps across the printing sleeve. Nine of these ten rolls had the "0LOWE" inscription while only one, the left roll, had the correct "LOWE" inscription. As such, the items noted with the * are quite scarce.

---
Coil Die Cut "Ski Slope" Variety
A constant die cutting variety can be found on all three coil stamps:
original printing (serpentine die cut 8 1/2)
found on 1 out of 10 rolls (the leftmost roll on the plate)
between the 3rd and 4th stamps above every gutter on the roll
found on both "F over R" and "F over O" inscriptions
best collected in gutter strips of 6 or 2 used singles (with variety at top or bottom)

---
$1.45 "Purple Line" Constant Variety?
The $1.45 coil has been reported with what might be a constant flaw. Click here for an enlarged image.
We welcome your reports of confirmation of this flaw.

The 85c and $1.45 designs were issued in booklet "panels" of 6 stamps. The $1.45 appeared with the "colour dots" placed in two different positions within the bottom inscription.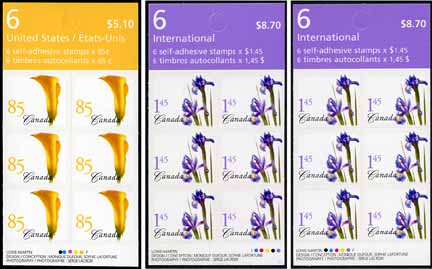 Booklet panes
4mm tagging
3mm tagging
(notched)
F paper
85c Yellow Calla Lily
x
x
F paper
"C" paper
Dots at right
Dots at left
$1.45 Purple Dutch Iris
x (*)
x
x
x
* shiny and dull tagging varieties exist
---
The 85c and $1.45 Flower booklet panes each come with TWO different widths of tagging:
4mm solid all around (passes over top of the design)
3mm that cuts around the design (notched)
The $1.45 booklet can also be found with dull and shiny tagging.
85c tagging: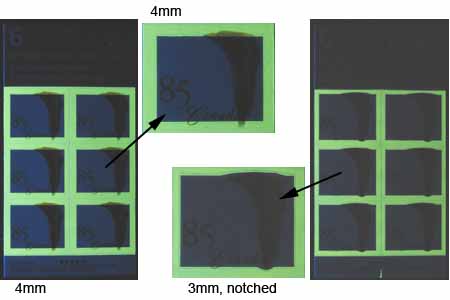 $1.45 tagging: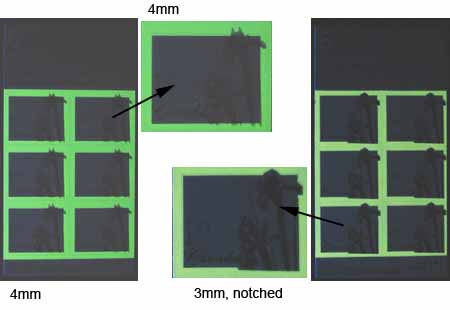 ---
The $1.45 booklet comes with the paper designation/colour dots in two different locations:

---
The $1.45 booklet can also be found printed on Tullis Russell Coating paper (even though the paper designation says "F" in the inscription).

---
$1.45 Booklet Constant Plate Variety
A constant variety has been found in the inscription of the $1.45 booklet with the colour dots on the left side. It is a break in the letter R of "Lacroix".

---
The 85c booklet was found with the black inscription missing or nearly missing. Of the few panes that were discovered, only one had the black missing completely - the rest had a "hint" of black showing on some of the stamps. All of these had the tagging shifted, resulting in 3-bar tagging.