Lowe-Martin Serpentine Die Cutting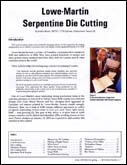 In-depth article on Lowe-Martin's self-adhesive coil stamps and the serpentine die cutting they employ.
This document (now 64 pages) is continually updated as new information is received. Please check back!
Adobe Reader is required (available free from Adobe).

Earlier versions of this article first appeared in the May-June 2009 Corgi Times (Elizabethan II Study Group bi-monthly journal) and the Jan-Feb 2010 Canadian Philatelist (RPSC bi-monthly journal). The version available here is a much expanded one and includes coil box dates.
---