---
Updated: Apr 24, 2002
---
Environment

Features

Table of contents

Additions/corrections
Checklists:


Flowers (1977-81)


Trees (1977-79)


Street Scenes (1978-82)


National Parks (1979-87)


QE II (1977-87)


Parliament (1977-79)


Maple Leaf (1981-83)
Study Tips:


#4: 50c Prairie Town Street Scene


#5: Hook-tag flaw, 1981/82

Album pages

Postal rates
---
Books

Karsh/Wilding/Cameo


Centennial


Caricature/Landscape


Environment


Artifact/Parliament


Wildlife/Architecture


Fruit/Flag


Trades/Wildlife

---
Other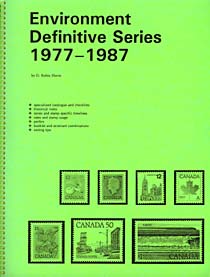 Environment Definitives, 1977-1987
Published: April 1997
Author: Robin Harris
8½ x 11, 116 pages
ISBN: 0-9682097-1-8

This is one in a series of specialized books devoted to the study of the Elizabethan-era definitives of Canada.

This is a fascinating definitive series to study. Many collectors became upset by the study of the previous two Canadian definitive series (Centennial and Caricature/Landscapes) because of the paper fluorescence varieties (these require the use of an ultraviolet light and are generally subjective in nature). That is not the case with this series (there are only a couple of stamps which come on hi-brite paper). Instead, there are various perforation, printing styles, and paper manufacturers to contend with. In fact, this is the first Canadian definitive series to use paper that was made by foreign companies!

The 44 face different designs have produced over 200 "major" varieties, plus 100's of errors and plate varieties. Throw in the booklets and and booklet se-tenant combinations and you have quite a challenge indeed.
---
Features include:
Check out these features (all of which have never before been discussed and summarized in such great detail in one reference work). Even the "seasoned" collector/expert will be amazed by the depth and scope of information presented here.
over 270 illustrations in 116 pages

all perfins priced (based on the most up-to-date listings available)

all booklet panes and covers illustrated

summarized lists for precancels, perfins, hi-brite, ribbed, tagging errors, imperforate errors