---
Updated: Apr 24, 2002
---
Caricature/Landscape

Features

Table of contents

Additions/corrections
Checklists:


Caricatures (1973-77)


Landscapes (1972-76)


Cityscapes (1972-78)

Album pages

Postal rates
---
Books

Karsh/Wilding/Cameo


Centennial


Caricature/Landscape


Environment


Artifact/Parliament


Wildlife/Architecture


Fruit/Flag


Trades/Wildlife

---
Other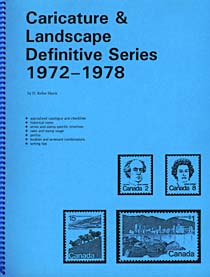 Caricature & Landscape Definitives, 1972-1978
Published: April 1997
Author: Robin Harris
8½ x 11, 66 pages
ISBN: 0-9682097-0-X

This is one in a series of specialized books devoted to the study of the Elizabethan-era definitives of Canada.

The first Canadian definitive series to not picture the reigning Monarch on the low-value definitives.

The 16 face different designs have produced over 140 "major" varieties, plus over 100 errors and plate varieties. Throw in the booklets and and booklet se-tenant combinations and you have quite a challenge indeed.
---
Features include:
Check out these features (all of which have never before been discussed and summarized in such great detail in one reference work). Even the "seasoned" collector/expert will be amazed by the depth and scope of information presented here.
over 150 illustrations in 66 pages

all perfins priced (based on the most up-to-date listings available)

all booklet panes and covers illustrated

summarized lists for precancels, perfins, hi-brite, ribbed, tagging errors, imperforate errors