---
Updated: Feb 24, 2003
---
Centennials

Features

Never-before reported information

Table of contents

Additions/corrections


New finds
Checklists:


Centennial (1967-73)

Canadian Stamp Study Tip #3: 8c Centennial, Extra Spire

Album pages

Postal rates
---
Books

Karsh/Wilding/Cameo


Centennial


Caricature/Landscape


Environment


Artifact/Parliament


Wildlife/Architecture


Fruit/Flag


Trades/Wildlife

---
Other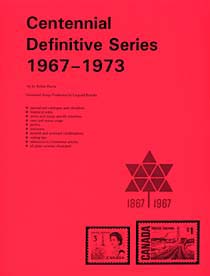 Centennial Definitives, 1967-1973
Published: July 2000
Author: Robin Harris
8½ x 11, 438 pages
ISBN: 0-9682097-6-9; 0-9682097-7-7 (hardbound)

This is one in a series of specialized books devoted to the study of the Elizabethan-era definitives of Canada.

The most popular Canadian Elizabethan definitive series now has the most comprehensive book ever written about the topic.

The 18 face different designs have produced over 140 "major" varieties, plus nearly 300 perfins, plus many errors and plate varieties. The perforation, gum, and fluorescent varieties add the greatest challenge. Throw in the booklets and nearly 175 stationery items and you have quite a challenge indeed.
---
Features include:
Check out these features (all of which have never before been discussed and summarized in such great detail in one reference work). Even the "seasoned" Centennial collector/expert will be amazed by the depth and scope of information presented here.
over 1,600 illustrations in 438 pages

comprehensive, 53-page Centennial Stamp Production article by Leopold Beaudet, which includes never-before published Centennial data based on extensive and original research at the National Archives in Ottawa, ON

bibliographic references to all Centennial-related articles in Canadian Philatelist (RPSC), Topics (BNAPS), Maple Leaves (Canadian Philatelic Society of Great Britain), Centennial Study Group Newsletter (BNAPS), and Canada The 1967–73 Centennial Definitives book by Irwin and Freedman

flow diagrams that outline sorting tips for all low-value denominations (two methods for most values)

every reported constant plate variety illustrated (over 300) and priced

major errors illustrated (fold-overs, imperforates, paper creases, perforation shifts)

all perfins priced (based on the most up-to-date listings available)

nearly all stationery items illustrated including the Karsh and Cameo designs surcharged during the Centennial era

Unitrade/Scott number changes for past 3 years discussed

all booklet panes and covers illustrated

summarized lists for perfins, tagging errors, imperforate errors

souvenir items, test coils and booklets, and essays/die proofs discussed and illustrated

every straight-edged single stamp illustrated with identification charts

simply put ... the most comprehensive reference catalogue ever produced for the most popular 'modern' Canadian definitive series
---
Never-before reported information
New information on the Centennials has come to light in just the past couple of months that will be published for the very first time in this new book:
detailed discussion of the Centennial printing plates (the new research, authenticated by visits to the National Archives in Ottawa by Leopold Beaudet, refutes long-standing beliefs on how the Centennial plates were arranged)

constant OP-2 tagging varieties on the 1c Dog Sled

plating of the 2c Totem Pole "blinky" varieties (with all newly discovered varieties being illustrated)

tag spacing varieties on booklet panes (BK69-71)

just discovered - different setting placements of the lower right 1c design on booklet pane BK69!

newly discovered constant plate varieties on the 5c, 6c black CBN die, and 7c values (all illustrated). In the latter case, most of the 7c flaws, first reported in the Centennial Study Group Newsletters, have now been plated by Leopold
It is amazing that new information on Canada's most popular modern definitive issue is still coming to light!