---
Updated: Dec 13, 2005
---
Karsh/WildingCameo

Features

New finds

Table of contents

Additions/corrections
Checklists:


Karsh (1952-53)


Wilding (1954-62)


Cameo (1962-66)

Album pages

Postal rates
---
Books

Karsh/Wilding/Cameo


Centennial


Caricature/Landscape


Environment


Artifact/Parliament


Wildlife/Architecture


Fruit/Flag


Trades/Wildlife

---
Other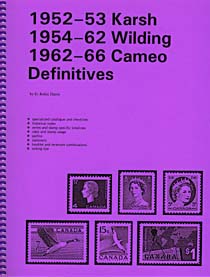 Karsh, Wilding, Cameo Definitives, 1952-1966
Published: November 1998
Author: Robin Harris
8½ x 11, 210 pages
ISBN: 0-9682097-5-0

This is one in a series of specialized books devoted to the study of the Elizabethan-era definitives of Canada.

The first three Elizabethan definitive series (Karsh, Wilding, and Cameo) are combined into this one volume.

The 29 face different designs have produced over 120 "major" varieties, plus nearly 600 perfins, plus over 100 errors and plate varieties. Throw in the booklets and nearly 300 stationery items and you have quite a challenge indeed (well over a 1,000 items!).
---
Features include:
Check out these features (all of which have never before been discussed and summarized in such great detail in one reference work). Even the "seasoned" collector/expert will be amazed by the depth and scope of information presented here.
over 1,000 illustrations in 210 pages

major errors illustrated (fold-overs, imperforates, paper creases, perforation shifts)

all perfins priced (based on the most up-to-date listings available)

nearly all stationery items illustrated

all booklet panes and covers illustrated

summarized lists for perfins, tagging errors, imperforate errors
---
New finds
Here is new information on the Karsh/Wilding/Cameo definitives that has come to light since this book was published and has never been reported before:
Wilding Officials found on vertically ribbed paper!

The initial releases of the Wilding definitives on June 10, 1954 were on horizontally ribbed paper. In May 1958, the plate size and orientation of these stamps was changed: from 400 subjects (4 panes of 100 each in 2 rows by 2 columns) to 600 subjects (6 panes of 100 each in 2 rows by 3 columns). The plate was rotated 90 degrees. Thus, stamps printed from these new plates were now ribbed vertically. Here is a list of the plates used on these stamps:

Value
Ribbed
Horizontally
Ribbed
Vertically
Officials
1c Wilding
1-9
11, 12
4-5, 8
2c Wilding
1-10
11-20
1-2, 5-8
3c Wilding
1-2
none
n/a
4c Wilding
1-14
15-19
1-2
5c Wilding
1-14
15-19
1-2, 5, 7, 10-11
6c Wilding
1-2
none
n/a

Notice the plates that have been reported by the Post Office as having been used for the Officials (overprinted with a G). All of these Official plates produce horizontally ribbed stamps.

However, all four of the Wilding Officials (1c, 2c, 4c, and 5c) have been found on vertically ribbed stamps. This means that additional plate(s) were overprinted with the G, sometime after May 1958.