Who are We?
Adminware Corporation (formerly drh Micro Software, Inc.) was founded in 1983 as an independent computer consulting and software customization firm by D. Robin Harris. We (the company and myself) have resided in Winnipeg, Manitoba, Canada since the mid-1960's with a brief home in Saskatoon, Saskatchewan, Canada from September 1997 to May 2002. In July 2006 we moved to just outside Winnipeg, near Beausejour.
Robin has developed a number of customized database administrative software programs for Windows-based computers, using the trademark Adminware.
From 1985 - 1997, Robin was involved in the education field through Continuing Education courses, primarily in the area of WordPerfect training. In February 1990, Robin became a WordPerfect Certified Instructor, only the third individual in Canada (at that time) to achieve this status.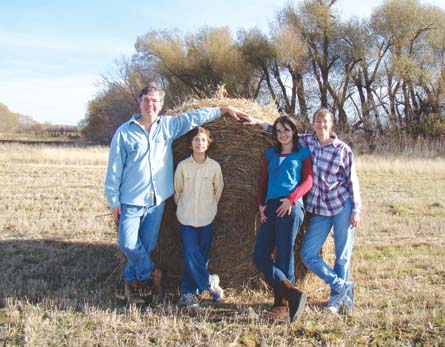 The Harris Family (November 2009), Robin, Robert, Rebecca, Leona
Goal
The goal at Adminware Corporation is to offer a quality product with superior service and support to ensure that you, as an existing or potential computer user, enjoy and benefit from the experiences associated with computerization.
Canada-based
Adminware Corporation is a 100% Canadian-owned corporation with headquarters in Beausejour, Manitoba.
---
Adminware Products
Adminware(tm) is a trademark of Adminware Corporation. It is used on a number of customized database software products developed by the company. Most of our clients fall into two categories: education (administrative uses), and non-profit organizations. Following are some of the wide range of school division-related programs:
Adminware(tm) for Continuing Education
Adminware(tm) for School Administrators
Adminware(tm) Lite for School Administrators
Adminware(tm) for School Division Busing
Adminware™ for Exam Marks
Other Adminware(tm) programs for school division usage include:

Adminware(tm) for Child Guidance
Adminware(tm) for Attendance Officer
Adminware(tm) for Resource Paybacks
Adminware(tm) for Division Substitutes
Adminware(tm) for Columbia Conversion

Adminware™ for Union Membership
---
The Church ExecutiveTM
The Church Executive(tm) is a trademark of Adminware Corporation. The program is an all-encompassing database program that meets the day-to-day needs of churches or non-profit organizations.
This menu-based program has the flexibility to meet your needs. You can customize many fields to meet the specific requirements you define. The various modules of the program enable you to create membership rosters; individual volunteer, committee, or work lists; and quarterly statements and receipts through weekly contributions.
Any church, no matter how large or small the congregation, can begin to see benefits within days of the implementation of The Church Executive package.
The program was first developed in 1985. Many additions and enhancements have been made since that time at the requests of users. The continual upgrading of the software ensures that your needs are being met now and in the future.
Churches all across Canada are using the program.
---
Database Customization
One of the strengths of Adminware Corporation is the development of a customized database application, most recently with Microsoft Access, to meet the precise needs of your company.
Some of our clients include:
Variety Club of Manitoba Tent 58
Saskatoon Stamp Centre
The Manitoba Lung Association
Winnserv
River East Transcona School Division
St. James School Division
Seven Oaks School Division
Lord Selkirk School Division
Winnipeg School Division
Ryerson
Nature 1st
The wide variety of clients illustrates the diversity of products that Robin has developed over the years.
---
WordPerfect Training
In February 1990, Robin became a WordPerfect Certified Instructor, only the third individual in Canada (at that time) to achieve this status.
Robin has written his own books used in his training classes. Books are available for all major versions of WordPerfect, including 5.0, 5.1, and 6.0 for DOS, and 5.2, 6.0, and 6.1 for Windows.
Various levels of courses have been taught, ranging from an introduction to WordPerfect, upgrading from past versions, advanced features, and tips, tricks, and traps.
Over the years, Robin has trained over a thousand people in the proper use of WordPerfect.
---
Philatelic Resources
Robin has produced a series of seven specialized books and album pages covering the Canadian definitive stamps issued since 1952:
Karsh/Wilding/Cameo, 1952-1966
Centennials, 1967-73
Caricature & Landscape, 1972-1978
Environment, 1977-1987
Artifact & Parliament, 1982-1989
Wildlife & Architecture, 1987-1996
Fruit & Flag, 1989-1996
In addition to the books, a set of specialized album pages are available for the collector. One result of these books was the appointment as Editor, in November 2004, of The Unitrade Specialized Catalogue of Canadian Stamps.
Also on this site are over 350 pages containing more than 1,700 varieties of Great Britain Machin stamps.
collector for over 50 years
editor of the Unitrade Specialized Catalogue of Canadian Stamps (since 2005)
editor of the Corgi Times (bi-monthly newsletter of Elizabethan II Study Group of BNAPS) (since 2001)
editor of The Canadian Philatelist (bi-monthly newsletter of The Royal Philatelic Society of Canada) (since 2019)
largest/most in-depth Great Britain Machin website
author of the Canadian Stamp News "Around the World" bi-weekly column (since 2011)
author of several specialized books on Canadian definitives
local and national exhibitor
life member of RPSC (and Fellow), BNAPS (and recipient of OTB Lifetime Achievement Award), APS, WPS
past president and editor of the WPS
past member of the Canada Post Stamp Advisory Committee
---