PNC Pages:

PNC home page

Intro to this site

Why this site?

Terminology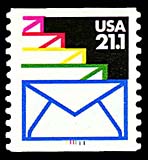 What's New?
(page updated: Feb 24/04)

This page will provide links to those PNC pages that have additions and/or corrections made to them.

So, rather than checking every page to see what has changed, just check this page out!
Date
Type
Description
Page link
Feb 24/04
Updated
New die cut variety added to 33c Flag over City page
click me
Aug 29/03
Updated
Two new die cut varieties added to (5c) Mountain page
click me
Aug 18/03
Updated
FAQ page updated.
click me
Apr 13/03
New
Non-denominated listing has illustrations to help aid in selecting the desired stamp.
click me
Aug 24/02
New
A complete list of PNCs listed by issue date. This makes it easier to find new discoveries quicker.
click me
Aug 12/02
New
'Transitions' added to (5c) Wetlands, (10c) Bicycle, (25c) Diner. 37c Official added.
Jul 12/02
Pricing
Pricing is now based on the Trends of Stamp Values found in the June 10, 2000 issue of Linn's Stamp News.
Apr 13/02
Header
A revised title/header has been applied to every page. It better indicates what this site is all about.
Sep 13/01
layout
navigation menu moved from the bottom of each page to the left side, for easier navigation around this site
May 18/01
picture
detailed image of clean cut vs. micro cut added
click me
Sep 1/99
This PNC site went live
---
Scott numbers are copyright Scott Publishing Co.
Values shown (US$) are from the Trends of Stamp Values published in the June 10, 2002 Linn's Stamp News.


© 1999-2017, 2018 Robin Harris
Adminware is a trademark of Adminware Corporation.