What is a PNC?
A PNC (Plate Number Coil) is single United States stamp (typically a coil but it could also be a booklet single) that contains a plate number in the bottom margin of the design.
The plate number appears on about every 12 or 20 or 25 stamps along the coil roll (or some other interval - it varies depending on the printing press). Most plate numbers are centered at the bottom of the design but some do appear at the lower left or lower right corner of the design [don't confuse the year date, found at the lower left corner of recent issues, as a plate number!]
[The plate interval of each stamp is outside the scope of this site - I refer you to the Plate Number Coil Collectors Club (PNC3) for detailed data listings that indicate the plate number interval on each stamp.]
When the first PNC appeared in April 1981, PNCs were usually collected in mint strips of 3 with the PNC on the middle stamp. However, as time has gone on, mint strips of 5 has become the standard (thus, early PNC strips of 5 can command a premium over strips of 3).
Mint PNC strip of 3, plate 1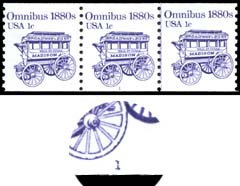 Mint PNC strip of 5, plate 1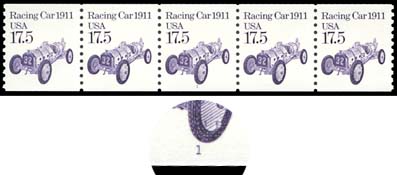 Longer strips are collected if the issue contains multiple stamp designs - an example of each design should be included in the PNC strip with the PNC on the middle stamp of the strip.

If the printing plate became worn or damaged a new plate would be used to print the stamps (or a single colour on multi-coloured stamps). In this case a new plate number would appear.


Plate 1 and 2 on the 17c Electric Auto stamp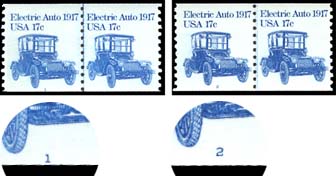 This site is based on used Plate Number singles. Note that there are some booklet singles that contain a plate number on the stamp itself. They are also listed on this site.


Booklet single