PNC Pages:

PNC home page

Intro to this site

Why this site?

Terminology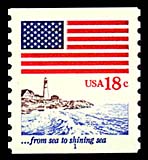 Flag PNCs
(page updated: Aug 17/02)
18c Flag over Sea (sc#1891)
20c Flag over Supreme Court (1895)
22c Flag over Capitol Dome (2115)
25c Flag over Trees (2280)
29c Flag over Mount Rushmore (2523/A)
29c Flag over White House (2609)
32c Flag over Porch:
large blue 1995 (2914, 2915)
red 1995 (2913)
blue 1996 (2915B, 3133)
red 1996 (2915A, 2915C)
red 1997 (2915D)
33c Flag over City (3280-82)
booklet (3278)
34c United We Stand (3550, 3550A)
(37c) Flag (3622)
37c Flag (3631-33)

"Other" flag-related coils:
23c Pre-sort Flag (2605)
23c Pre-sort Flag (in 'USA') (2606-08)


---
Scott numbers are copyright Scott Publishing Co.
Values shown (US$) are from the Trends of Stamp Values published in the June 10, 2002 Linn's Stamp News.


© 1999-2017, 2018 Robin Harris
Adminware is a trademark of Adminware Corporation.