PNC Pages:

PNC home page

Intro to this site

Why this site?

Terminology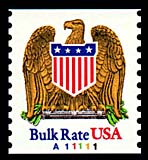 Non-denominated PNCs
(page updated: Jan 23/04)
G (5c) Non-profit Presort (green background) (sc#2893)
G (25c) First-Class Presort (blue background) (2888)

(10c) Eagle & Shield (2602-4/3270-71)
(10c) Automobile (2905-6)
(10c) Bicycle Handle (3228-29)
(10c) Lion Statue (sa: 3447) (wag: 3769)
(10c) Atlas Statue (3520/3770)
(25c) American Eagle (3796)

American Scenes Series:


(5c) Butte (2902/B)
(5c) Mountain (2903-4B)
(5c) Wetlands (3207/A)
(5c) Sea Coast (sa: 3693) (wag: 3775) (perf all around: 3785)

American Culture Series:


(15c) Tail Fin (2908-10)
(15c) Woody Wagon (3522)
(25c) Juke Box (2911-12B, 3132)
(25c) Diner (3208/A)

Also:


(34c) Statue of Liberty (3452/3453)
(34c) Orchid (flower) (3464)
(37c) Flag (3622)


---
Scott numbers are copyright Scott Publishing Co.
Values shown (US$) are from the Trends of Stamp Values published in the June 10, 2002 Linn's Stamp News.


© 1999-2017, 2018 Robin Harris
Adminware is a trademark of Adminware Corporation.