Tour:

Tour home page
Congregation:


Family


People


Attendance


Classes

Reference:


Pastor records


Ministry


Hymns

Contributions:


Church Envelopes


SS envelopes


Services


Contributions

Accounting:


Accounting

Database:


File Utilities


Look-up Tables


Users

Weekly Contributions
Monies received from weekly donations, by service, are recorded and balanced in the Weekly Contributions module.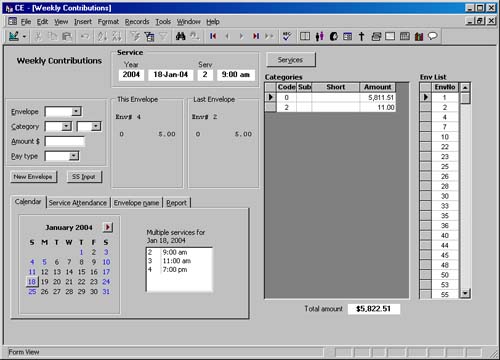 Features:

quick entry of donations by envelope
running totals for current and last envelope, and entire service
multiple (18 + General Fund) donation categories (and 26 sub categories for each main category)
optional: multiple pay types (MasterCard, Cash, Cheque, Debit Card, etc.)
summarized list of donations received by category
---
Disclaimer: screen shots may not not be exactly as found in the current version of the program due to on-going updates and enhancements.


© 2003-2017, 2018 Adminware Corporation
Adminware is a trademark of Adminware Corporation.