Tour:

Tour home page
Congregation:


Family


People


Attendance


Classes

Reference:


Pastor records


Ministry


Hymns

Contributions:


Church Envelopes


SS envelopes


Services


Contributions

Accounting:


Accounting

Database:


File Utilities


Look-up Tables


Users

Library
Library holdings and individual loans of material.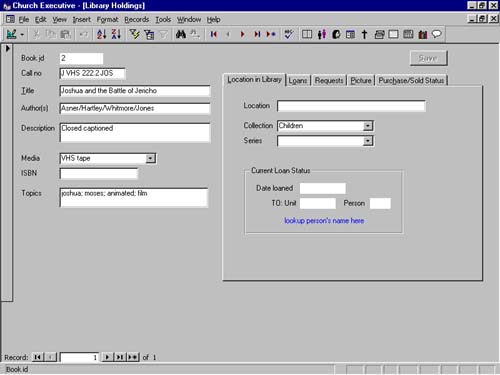 Features:

identify and group all library holdings
track loans of material
list any requests for material currently on hold
record purchase and sale information for each item
record any 'fines' of late or non-returned material
---
Disclaimer: screen shots may not not be exactly as found in the current version of the program due to on-going updates and enhancements.


© 2003-2017, 2018 Adminware Corporation
Adminware is a trademark of Adminware Corporation.