Tour:

Tour home page
Congregation:


Family


People


Attendance


Classes

Reference:


Pastor records


Ministry


Hymns

Contributions:


Church Envelopes


SS envelopes


Services


Contributions

Accounting:


Accounting

Database:


File Utilities


Look-up Tables


Users

Family Demographics
Family units are recorded here for the first time.
Other modules of the program reference the Family Demographics for address information. This includes the Church envelopes (for donation receipts), Library (for patron information), Accounting (for vendor data).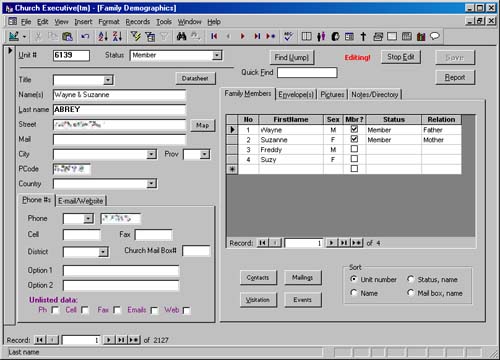 Features: (click for Reports)

unique Family Unit number
'Status' used to identify groups of people and used for mailing purposes
two-line address
family e-mail and website URL
two user-defined 'Option' fields
datasheet view of family members
miscellaneous notes (unlimited memo field)
identify current and last year's envelopes assigned to this family
unlimited links to family images
pop-ups to contacts, mailings, visitation, and event tracking

User-defined Drop-down lists:
---
Disclaimer: screen shots may not not be exactly as found in the current version of the program due to on-going updates and enhancements.


© 2003-2017, 2018 Adminware Corporation
Adminware is a trademark of Adminware Corporation.