Tour:

Tour home page
Congregation:


Family


People


Attendance


Classes

Reference:


Pastor records


Ministry


Hymns

Contributions:


Church Envelopes


SS envelopes


Services


Contributions

Accounting:


Accounting

Database:


File Utilities


Look-up Tables


Users

Hymns
Ability to record a master table of hymns found in your Church hymnal(s).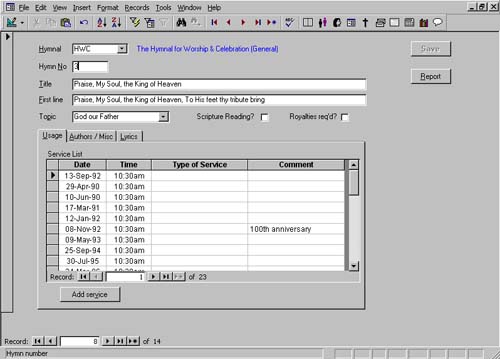 Features:

record any number of hymns from any number of hymnals
record hymns and lyrics not found in standard hymnals

Hymn Usage:

datasheet view of each time hymn has been played/sung in Church service
pop up dialog box to add a hymn to any service (useful for quick adding of historical items)

Authors / Miscellaneous:

fields for text and music authors
copyright by
metrical tune
Biblical reference

Lyrics:

assign lyrics to hymns (not supplied)
---
---
Disclaimer: screen shots may not not be exactly as found in the current version of the program due to on-going updates and enhancements.


© 2003-2017, 2018 Adminware Corporation
Adminware is a trademark of Adminware Corporation.