Tour:

Tour home page
Congregation:


Family


People


Attendance


Classes

Reference:


Pastor records


Ministry


Hymns

Contributions:


Church Envelopes


SS envelopes


Services


Contributions

Accounting:


Accounting

Database:


File Utilities


Look-up Tables


Users

Individual / Person
Details about each family member (ie. each individual) are recorded here.
Other modules of the program reference the Individual data - this includes the Church envelopes, Library, Attendance, Ministry, Pastor Records.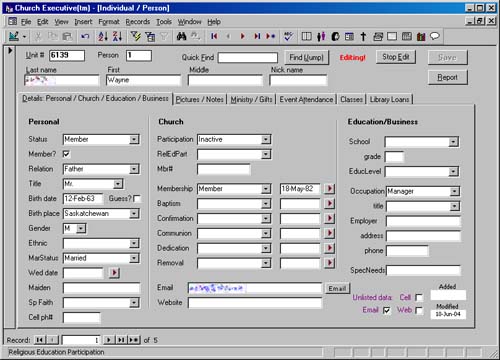 Features:

unique Person number for each Family unit
large amount of details for each person
six user-defined fields (typically: Membership, Baptism, Confirmation, Communion, Dedication, and Removal)
e-mail and website URL
datasheet view of ministry, attendance, and classes (both present, past, and planned)
library loans
unlimited number of links to images of each individual
---
Disclaimer: screen shots may not not be exactly as found in the current version of the program due to on-going updates and enhancements.


© 2003-2017, 2018 Adminware Corporation
Adminware is a trademark of Adminware Corporation.