Unitrade Specialized Catalogue of Canadian Stamps
2006 Edition
Updated Oct 17/05
Click for errata (updated Mar 21/06)
I am the incoming editor of the Unitrade Specialized Catalogue of Canadian Stamps. The 2006 edition went to the printer near the end of August 2005 and should be fully printed by late September 2005. [The catalogue began shipping to dealers on Monday, September 26, 2005.]
The catalogue won a GOLD award at the just completed C7NPLE (Canada's 7th National Philatelic Literature Exhibition) held in conjunction with Stampex '05 in Toronto, ON from Oct. 14-16, 2005.
"Meet the Editor" at STAMPEX 2005
A session is being scheduled for 3:00pm on Friday, October 14, 2005 at the
STAMPEX 2005
show being held in Toronto. I will be presenting a look at what went on during the past several months in the re-design of the 2006 edition of the
Unitrade
catalogue. A question and answer forum will follow.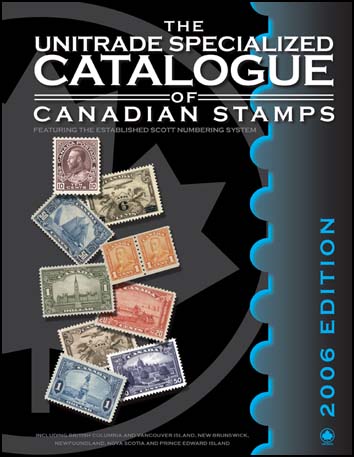 Here are some highlights:
each stamp now includes the method of printing and designer (where available) [view pic]
dozens of new constant plate varieties have been added. Where possible, these are illustrated in colour. [view pic]
numerous new re-entries have been added and illustrated in colour, thanks to Ralph E. Trimble's website
nearly 90% of all of the images have been re-scanned to provide better colour quality
all booklet panes are now illustrated in colour and the entire pane is shown (instead of being sliced in half). Numerous pane varieties are also illustrated. [view pic]
sample booklet covers have been added to the Booklets section [view pic]
selected postal rate information is included at the points where rates change [view pic]
all known untagged errors are listed for the first time
definitive issues are typically illustrated together as a full set and then the stamp listings follow; illustrations and references to back-of-the-book stamps from the same series included [view pic]
comb-perfed stamps are measured in tenths
title bars for each year [view pic]
index 'tabs' on the side margins for each decade or series [view pic]
references to postal stationery that shares the same design as a stamp [view pic]
series-oriented tables are presented to help identify various varieties [view pic]
the introduction has been updated and expanded (doubled in length)
hopefully all of the mistakes from previous editions have been removed (there were a lot more there than I ever knew about before taking on this role)
numerous full pane illustrations have been added to show off unique pane arrangements [view pic]
unassigned Scott numbers are indicated in their respective location [view pic]
references to the assigned Scott number are included in the correct date sequence as to when a definitive stamp was issued (ie. if a definitive was issued between a couple of commemoratives but the Scott number is found several pages away, a reference to this stamp is indicated) [view pic]
references (cover illustrations) to other important philatelic books for certain series [view pic]
dozens of previously unlisted (but known) booklets are listed for the first time
several dozens of previously unlisted (but known) modern varieties (particularly definitives) are listed for the first time [view pic]
joint issues with other countries are illustrated [view pic]
the price remains the same as last year's edition: CAN$42.95
Despite all of the additions, only 8 more pages were added to the catalogue (it is now 576 pages). How? Some subtle re-formatting of the pages allowed us to save a tremendous amount of space by getting rid of wasted "white space". Click on the following thumbnails to see a full page PDF...
---