Resources:


Home page


Database
Educational
Non-profit


Database


Website design


WordPerfect

Other:


Philatelic


About Us


Site Map


The Church Executive(tm)

The Church Executive(tm) is an all-encompassing database developed in the Windows(tm) environment using the popular Microsoft Access as the underlying source.
Self-paced tour

Program updates (for Windows)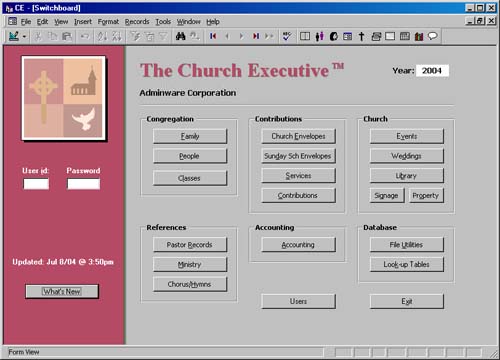 System Requirements:
Windows 95/98/ME/2000/XP/Windows 7/Windows 8
any version of Microsoft Access 2000 and up (i.e. 2000, 2002, 2003, 2007, 2010, 2013)
monitor to display at 800x600 (or better)
Optional
if you wish to create your own reports or queries, then Microsoft Access 2000, 2002, 2003, 2007, 2010, or 2013 on each workstation with latest service pack update
Pricing
the entire program (it is not sold in 'modules') is C$245.00 for new users (that is not a misprint!). We don't believe in charging a high price for this type of product. Existing users of the DOS version can upgrade to the Windows version for just C$145.00. GST (5%) is applicable to Canadian churches (HST where applicable). PST (8%) is applicable to churches in Manitoba.
Contact
---


© 1996-2017, 2018 Robin Harris
Adminware is a trademark of Adminware Corporation.