Tour:

Tour home page
Students:


Students


Current courses


Fees


Add new student


Enrol


Previous courses


Reports

Courses:


Courses


Brochure


Student list


Meeting dates


Reports

Teachers:


Teachers


Payroll


Current courses


Meeting dates


Previous courses


Course interests


Reports

Schools:


Schools


Current usage


Facilities


Reports

Database:


Look-up Tables


File Utilities


Users

Self-Guided Tour
Updated: Nov 1/03

Adminware(tm) for Continuing Education is an all-encompassing database developed in the Windows(tm) environment using the popular Microsoft Access as the underlying source.

Step through the various modules by choosing an option in the left menu bar. Many of the screen illustrations have 'hot spots' - areas where you can jump to another screen or display a pop-up giving details on the various drop-down lists or selected buttons. For example, each of the buttons in the illustration below will take you to the corresponding module.

Here is the 'Main Switchboard' of the program...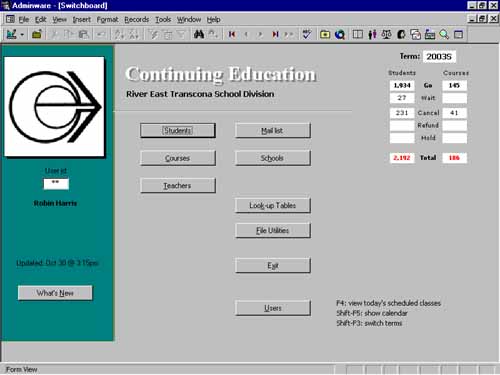 Features:

module/menu driven
each module has own security (add/edit/look/deny)
use mouse or keyboard to access modules
toolbar (illustrated at right) has icon shortcuts to the various modules

System Requirements:

Windows 95/98/ME/2000/XP
Microsoft Access 2000 or 2002 on each workstation with latest service pack update
128Mb RAM (or more, particular if running on a network)
monitor to display at 800x600 (or better)

Optional:
---
Disclaimer: screen shots may not be exactly as found in the current version of the program due to on-going updates and enhancements.


© 2003-2005, 2006 Adminware Corporation
Adminware is a trademark of Adminware Corporation.