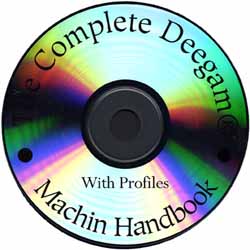 The Complete Deegam Machin Handbook - 4th Edition
(page updated: May 15/10)

Simply the best reference catalogue available today for the study of Machins!

Click for Douglas Myall's website (Deegam Publications).

The fourth edition of The Complete Deegam Machin Handbook is a DVD-only version with clickable links that allow you to jump from topic to topic. This edition has about 2,000 pages, and is priced at only £39, postpaid (airmail) to anywhere in the world.

If you are a novice or serious student of Machins, you have to purchase The Complete Deegam Machin Handbook - it is as simple as that (of course, you should be buying all books devoted to Machins)!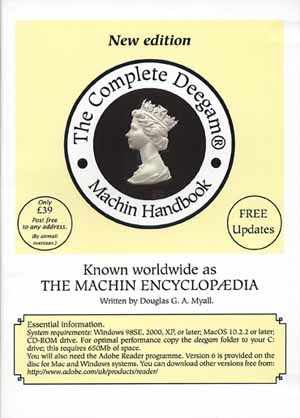 The book is available directly from the author, Douglas Myall.

[ I have no financial interest in this book. Just like you, I had to order my own copy. I had prompt and excellent service when I ordered the DVD - delivery from England to Canada by surface mail took about a week and the package used several of the latest Machins ]
The author, D.G.A. Myall, has defined a numbering system ("Deegam") that is so effective that no re-numbering will ever be needed, no matter how many new Machins appear. The handbook discusses and lists everything and is profusely illustrated, including pictures of all phosphor types and complete booklets.
I say again ... buy this book! The listings found on these web pages are no where near complete - for completeness, I refer you to the above "book".
Previous Editions
As noted above, this is the fourth edition of The Complete Deegam Machin Handbook. Illustrated below are the spines of all the previous printed editions.