9p orange
EME image
(page updated: Jun 10/10)

1st seen: Apr 5/05
Photogravure
Lithography

Also exists:
Paper
Other identification
Issue date
Source
Gum
2-band (violet) phosphor
OFNP
De La Rue
Apr 5/05
Sheets

PVA

OFNP
De La Rue
(value setting is slightly lower than original)
Apr 1/08
Sheets

PVA

2-band, Lithography
OFNP
Cartor
May 8/10
Souvenir sheet

PVA
Value setting difference between 2005 and 2008 issues: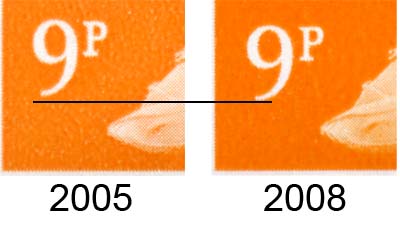 Disclaimer: We apologize for any errors of information that might be present. Your feedback is appreciated.

For even more varieties on Machin stamps, check out The Complete Deegam Machin Handbook (simply the best Machin
handbook available anywhere) by Douglas Myall - click for details.

Booklet pane numbers used courtesy the Modern British Philatelic Circle
who publish 'The Bookmark' Catalogue


© 1999-2020, 2021 Robin Harris
Adminware is a trademark of Adminware Corporation.