Canadian Stamp Tips: #6 of a series
Updated Mar 12/99
---
1998 Stylized Maple Leaf Self-Adhesive
ATM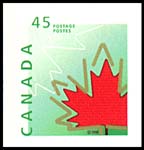 Canada Post released a new self-adhesive stamp on April 14, 1998. It was issued in panes of 18 stamps for dispensing from selected ATM bank machines in southern Ontario. [The 18 stamps were arranged in 2 sections of 9 stamps each divided by an inscribed gutter. The stamps are imperforate with a die cut separating the stamps but not the backing.]
This was the first time that Canada Post has tested the sale of postage stamps through bank machines (this has been done in the USA for a number of years now).
The stamp design includes a stylized illustration of the Maple Leaf, a well-known symbol of Canada. The 45c face-value meets the domestic first-class letter rate for items weighing 0-30 grams.
[Canada Post's stamp announcement noted that the stamp was to be tagged - the issued stamps were not tagged, and a post office correction announcement was made shortly after the stamps were released.]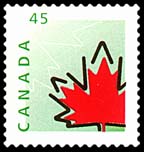 On September 30, 1998, the design was re-used for a coil version. This stamp was sold in rolls of 100, conveniently packaged in a colourful box. The stamps are printed on continuous roll of peelable backing paper.
This self-adhesive coil version was tagged and had simulated perforations. Unlike the ATM stamp where adjacent stamps touch each other, the coil stamp has a 3mm gap separating adjacent stamps.
A relatively low quantity (2,720,000 stamps) were printed of the coil version. With postage rates to rise at the beginning of the new year, this stamp will have a desired postal life span of just 3 months.

Format
Issued
Printer
Paper
Tag
Perf
Qty
Scott#
ATM (18)
Apr 14/98
Avery
FCP
none
Imperf
4,500,000
1714
Coil (100)
Sep 30/98
AP
JAC
4 sides
simulated
2,720,000
1714B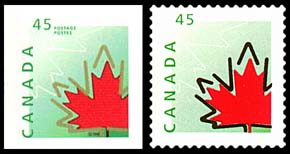 There are many differences between the ATM and coil stamps:
ATM
Coil

untagged
imperforate
inscribed "Postage/Postes" beside value
hidden date is below the leaf, just to the left of the stem
outline of leaf is bronze-coloured
the green screened background is printed "vertical"
the "Canada" text in the red leaf is a larger font

tagged on all 4 sides
simulated perforations
not inscribed
hidden date is within the red leaf
outline of leaf is gold, embossed
the green screened background is printed at a slight diagonal to vertical
the "Canada" text in the red leaf is a smaller font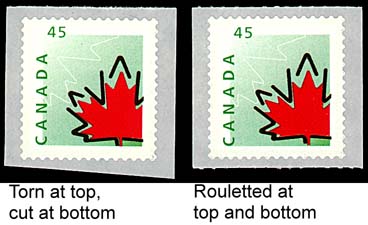 The coil version of this design has appeared with a rouletted backing!
This will prove to be extremely scarce as it is only available in either the 1998 Collection of Canada's Stamps or 4th quarter pack. The annual collection, which contains a single copy of all of the stamps issued by Canada Post in 1998, is priced at C$46.95; the 4th quarter pack is a modest $8.46.
The original issue of this stamp on Sep 30/98 was printed on a continuous peelable backing - with no means of separation - only scissors (or a tear) could separate the backing.

---


© 1995-2017, 2018 Robin Harris
Adminware is a trademark of Adminware Corporation.