Trading Used US PNCs
(page updated: Sep 1/99)

The checklists presented here include a column marked "Have?". A checkmark in this column indicates that we have a used single specimen of the particular plate number.

Do you have an extra used single of any of the other plate numbers that we do not have? I will trade my extra used PNCs for your used PNCs, at the prices shown - I am NOT buying!.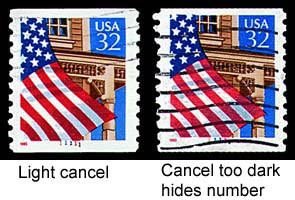 I am looking for the following condition (as illustrated):
used, VF or better, not damaged,
light cancel with the plate number clearly showing
Precancels should have no cancel. Stamps should have all of their perforations, including any that have been separated by slicing the perfs for bulk mailing purposes.
Please e-mail details of your extra used singles and what you are looking for.
As you can see, I am in no rush to complete this collection. At this time condition is more important than quantity.
---
Scott numbers are copyright Scott Publishing Co.
Values shown (US$) are from the Trends of Stamp Values published in the June 10, 2002 Linn's Stamp News.


© 1999-2017, 2018 Robin Harris
Adminware is a trademark of Adminware Corporation.