Tour:

Home

Features

Requirements

Installation

Updates

Pricing

Contact

Accounting

Air Flights
Students
All Students are recorded here for the first time, whether they be prospects, currently enrolled, or archived.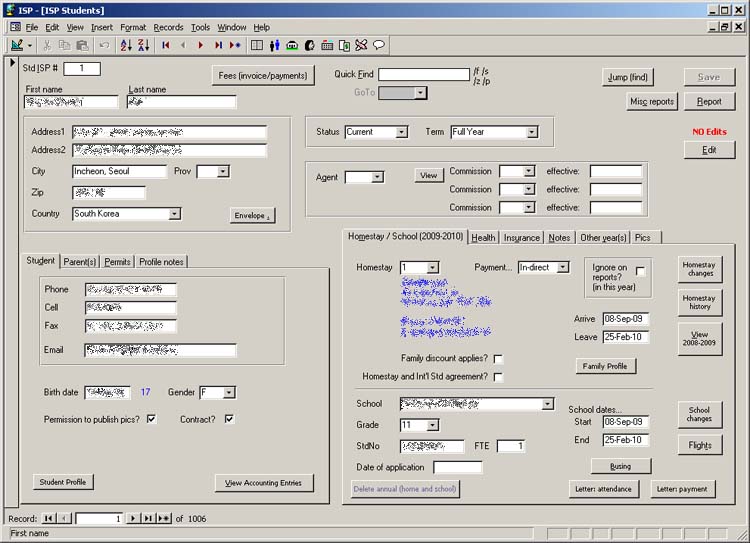 Features: (click for Reports)

unique Student ISP number
'Status' used to identify groups of students
two-line address
miscellaneous notes (unlimited memo field)
pop-ups to fees, homestay changes, school changes

User-defined Drop-down lists:

Drop-down lists defined via another module:

Record all billings made to the student and all payments received.

record personal information about each parent.

record information about student's passport and permit.

Profile notes: [ Top ]

record information to appear on a student's profile report.

record specific data regarding any health issues.

Insurance: [ Top ]

record specific information regarding insurance.

Other years: [ Top ]

record other years that student was involved in your program.

list (and view) an unlimited number of pictures of each student.

Homestay changes: [ Top ]

Track all moves of a student between Homestay families (if any).

School changes: [ Top ]

Track all movements of a student between schools (if any).
---
Disclaimer: screen shots may not not be exactly as found in the current version of the program due to on-going updates and enhancements.


© 2003-2017, 2018 Adminware Corporation
Adminware is a trademark of Adminware Corporation.