Tour:

Tour home page
Congregation:


Family


People


Attendance


Classes

Reference:


Pastor records


Ministry


Hymns

Contributions:


Church Envelopes


SS envelopes


Services


Contributions

Accounting:


Accounting

Database:


File Utilities


Look-up Tables


Users

Church Property (assets)
Church assets (property), such as furniture, computer equipment, custodial equipment, and musical instruments are recorded here. Any equipment that is loaned/borrowed and that 'moves' from one room to another is recorded in the Equipment module.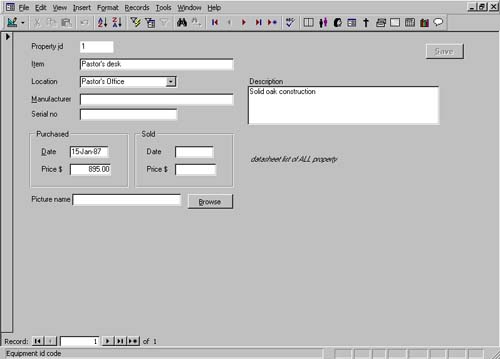 Features:

unlimited number of items
purchase date and price
selling date and price
link to an image of the item
---
Disclaimer: screen shots may not not be exactly as found in the current version of the program due to on-going updates and enhancements.


© 2003-2017, 2018 Adminware Corporation
Adminware is a trademark of Adminware Corporation.