Tour:

Tour home page
Students:


Students


Current courses


Fees


Add new student


Enrol


Previous courses


Reports

Courses:


Courses


Brochure


Student list


Meeting dates


Reports

Teachers:


Teachers


Payroll


Current courses


Meeting dates


Previous courses


Course interests


Reports

Schools:


Schools


Current usage


Facilities


Reports

Database:


Look-up Tables


File Utilities


Users

Look-up Tables
The many drop-down lists found throughout the program are based on coded look-up tables. This module is used to modify this data.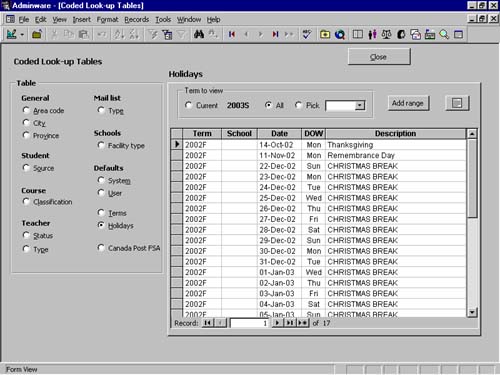 Features:

coded look-up tables are grouped by module on the left side
the corresponding data entry form is on the right side of the screen
the listing on the right changes as different 'radio buttons' are selected on the left side
---
Disclaimer: screen shots may not be exactly as found in the current version of the program due to on-going updates and enhancements.


© 2003-2005, 2006 Adminware Corporation
Adminware is a trademark of Adminware Corporation.