Tour:

Tour home page
Students:


Students


Current courses


Fees


Add new student


Enrol


Previous courses


Reports

Courses:


Courses


Brochure


Student list


Meeting dates


Reports

Teachers:


Teachers


Payroll


Current courses


Meeting dates


Previous courses


Course interests


Reports

Schools:


Schools


Current usage


Facilities


Reports

Database:


Look-up Tables


File Utilities


Users

File Utilities
Many miscellaneous routines are available via the File Utilities module.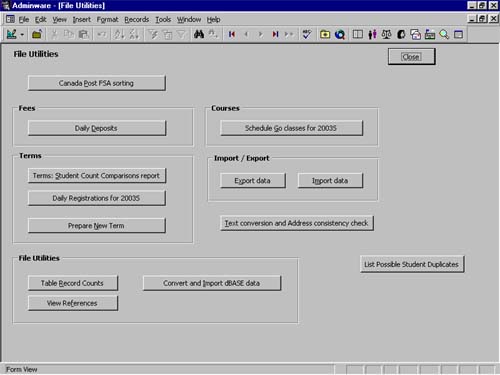 Features:

Canada Post FSA sorting
Daily Deposits
Schedule Go classes for current term
Student Count Comparison report by term
Daily registration counts for current term
Prepare New Term
Import and Export data
Text conversion and Address consistency check
Table record counts
View Access references
Convert and Import data from previous version of Adminware(tm) in dBase III Plus
List possible Student duplicates
---
Disclaimer: screen shots may not be exactly as found in the current version of the program due to on-going updates and enhancements.


© 2003-2005, 2006 Adminware Corporation
Adminware is a trademark of Adminware Corporation.