Tour:

Tour home page
Students:


Students


Current courses


Fees


Add new student


Enrol


Previous courses


Reports

Courses:


Courses


Brochure


Student list


Meeting dates


Reports

Teachers:


Teachers


Payroll


Current courses


Meeting dates


Previous courses


Course interests


Reports

Schools:


Schools


Current usage


Facilities


Reports

Database:


Look-up Tables


File Utilities


Users

Courses: Student list
Use the Description (brochure) tab to record a full description about the current course that appears in your advertising brochure.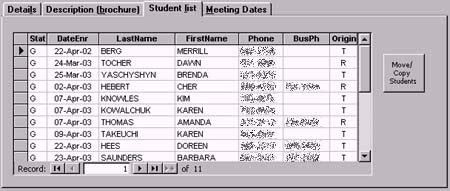 Features:

an -up-to-the minute listing of all students enrolled and/or interested in this course (such as cancelled and waiting list names)
The Move/Copy Students button transfers these students from the current course to another course (in the event of a course change or entries made in error)
---
Disclaimer: screen shots may not be exactly as found in the current version of the program due to on-going updates and enhancements.


© 2003-2005, 2006 Adminware Corporation
Adminware is a trademark of Adminware Corporation.