Tour:

Tour home page
Students:


Students


Current courses


Fees


Add new student


Enrol


Previous courses


Reports

Courses:


Courses


Brochure


Student list


Meeting dates


Reports

Teachers:


Teachers


Payroll


Current courses


Meeting dates


Previous courses


Course interests


Reports

Schools:


Schools


Current usage


Facilities


Reports

Database:


Look-up Tables


File Utilities


Users

Courses
All details for every course being offered in the current term (and any previous term) are identified on the Courses form.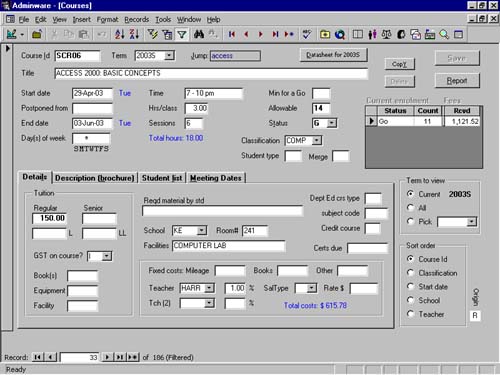 Features:

basic scheduling details are noted on the top of the screen, such as start date, postponed date, end date, time, hours per class, and number of sessions
current enrollment and fees received for each course are noted on the right side
tuition details, school location and facilities, and teacher/fixed costs are noted on the Details tab
a Description/Brochure tab contains a free-form memo field to record a description about this course
the Student list tab contains an up-to-the minute list of all students enrolled or interested (cancelled, wait list) in this course
a Meeting Dates tab lists every night that this course is schedule. It then links to payroll and school usage reports.

Drop-down lists:
---
Disclaimer: screen shots may not be exactly as found in the current version of the program due to on-going updates and enhancements.


© 2003-2005, 2006 Adminware Corporation
Adminware is a trademark of Adminware Corporation.